It's time to reveal my finished MooglyCAL2018 blanket - and share the details for MooglyCAL2019! Here's what you can expect in the 6th year of this fantastic Crochet Along!
Disclaimer: Materials provided by Red Heart, Furls Crochet, and Chetnanigans; this post includes affiliate links.
First things first, here is my finished 2018 blanket! It was such a joy making each of these squares, and I cannot thank all of the designers enough!
To finish off my blanket this year, I used the Tight Braid Join with 15 loops along each side of the squares (including corners). Then I added a simple scallop border - 9 dc in each corner, then *sc in the next space, 6 dc in the next space across!
To get the patterns for all the squares in 2018, you can use the schedule with links in the post for the last square, or check out the dedicated 2018 Pinterest board, where you can see them all! While you're there, be sure to follow the 2019 Pinterest Board so you get those pins too!
So... let's talk MooglyCAL2019!
The Format:
The basic format will remain the same as previous years: 24 squares, by 24 different designers, with a new square released every 2 weeks. Here are the stipulations the designers have:
Each square will be designed in Red Heart With Love, with a US-J, 6.0mm hook.
Square should not be too "holey" or too 3D - so they all work together cohesively. But there should be some texture for those who only use one color to enjoy.
Use standard US terms and formatting.
Each square should be 12" square after blocking, with a solid (sc, hdc, or dc) final edging that goes all the way around the square.
All squares must remain forever free and available.
So what can you do with 24 12" squares?
Standard Rectangle: 4' x 6' (4 squares across, 6 squares long)
Two Baby Blankets/Lap Blankets: 3' x 4' (3 squares across, 4 squares long)
Big Square: (requires one additional square): 5' x 5' (5 squares across, 5 squares long)
Get creative - some people add those big 24" squares to the middle too!
The Yarn and Hook:
Here is the yarn I'll be using! Red Heart With Love in White, Bluebell, True Blue, and Navy - inspired by traditional Delft pottery.
Over the years I've gotten a pretty good idea of how much yarn is needed. I recommend purchasing a total of 4420 yards of yarn, divided among the colors you want to use.
For instance, since I am using 4 colors this year, I ordered 2 skeins of each of the blues, and 6 skeins of the white - I plan to use the white for joining and the border, as well as within each square, so I went heavy on that one. That said, Red Heart With Love is readily available, and while it does have a dye lot, I find it to be remarkably consistent. So if you prefer to purchase your yarn in batches, you should be fine with this one!
As for the hook, I always use my Furls 6mm Candy Shop hook for the Moogly Crochet Along - it's super slick, and works perfectly with this yarn!
And one other tool I use for all my squares - my Chetnanigans Blocking Board with Perfector Strips! This way I don't have to measure as I pin - just line it up with the outermost holes and go. The Perfector Strips allow me to block several at once too!
The Schedule:
This year, there's no delay - we can start right away, and the last square will be released the day before American Thanksgiving. This leaves the rest of the year for joining and finishing! Here are the dates for each square:
JANUARY: 10 & 24
FEBRUARY: 7 & 21
MARCH: 7 & 21
APRIL: 4 & 18
MAY: 2 & 16 & 30
JUNE: 13 & 27
JULY: 11 & 25
AUGUST: 8 & 22
SEPTEMBER: 5 & 19
OCTOBER: 3 & 17 & 31
NOVEMBER: 14 & 27
The Facebook Group:
The Moogly CAL Facebook Group has become an integral part of this free crochet along! It is run by a group of amazing volunteers that keep it one of the most drama-free corners of the internet I've ever seen.
Every time there's a new square, I share the link in the group. And then there is a place everyone can ask questions if they get confused by a pattern, share photos of finished squares, and get inspired by all the talent! It's totally optional, but very valuable and fun if you "do" Facebook.
The Finishing:
How you want to finish up your CAL blanket is up to you. After you've decided how to arrange them, pick your favorite joining method and a pretty border, and make it your very own unique creation!
How to Join In:
I hope you'll give the MooglyCAL2019 a try! It's a very relaxed, casual, crochet along - if there's a square you don't like, make one from a previous year that you do! There's no need to sign up anywhere or register, it's come and go as you please. If you'd like to be notified every time there's a new square, you can follow Moogly on social media, or sign up for the free weekly newsletter at the top of the page.
If you'd like to get an email every time there is a new post on Moogly, you can leave a comment on this post and check the box for that too. Then you'll be sure not to miss a thing! Happy crocheting all!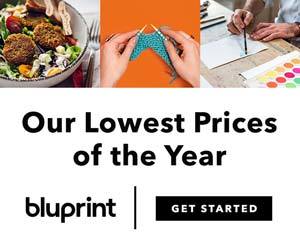 Follow Moogly on Facebook, Twitter, G+, Pinterest, Instagram, and Tumblr! Thank you to Red Heart Yarns, Furls Crochet, and Chetnanigans for providing the materials for this crochet along.