The Heart Shaped Crochet Chart makes the Heart Shaped Cloth - and you can use the image to create tags, cards, iron ons, vinyl decals, or whatever you can imagine! See how I used this free cut file with my Cricut Joy!
Disclaimer: This post includes affiliate links; materials provided by Cricut.
A Real Working Crochet Chart
If can crochet from a chart, you can use the Heart Shaped Crochet Chart to make a dishcloth, washcloth, or applique. Or you can click here for the written pattern, or click here for the video tutorial! And then you can have even more fun if you have a Cricut or other cutting/writing machine.
Step One - Download the Heart Shaped Crochet Chart
CLICK HERE to open the Heart Shaped Crochet Chart in a new tab or window, where you can save it. (On my computer that's right click and "save as", but your system or device may be different.) It's a PNG file and I've tested it with my own Cricut... as you'll see below!
Step Two - Make Something
And now that you have the image, you need to decide what you want to make with it! I decided to start with a simple card - and the quickest card making machine I have is the Cricut Joy!
I used the Cricut Joy Insert Cards made to work specifically with the Cricut Joy, and the Cricut Joy Card Mat. And the red Cricut Joy pen!
I love the way the Cricut Joy gives you a preview before you cut or print so you can make sure the image is right where you want it!
It's so mesmerizing watching it go!
It's a simple card, but a great test of the file - now the sky is the limit!
Step Three - Make More!
So now you can use that file to create all sorts of projects! From iron-ons to vinyl decals to paper projects, printing to embossing, you can make all sorts of fun things to celebrate love - and crochet!
I hope you enjoy this file - and pattern - and that it helps bring a little more love to your life!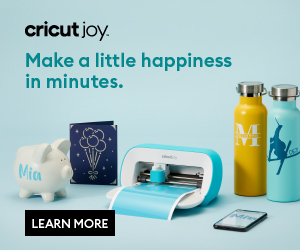 THE FINE PRINT
Follow Moogly on Facebook, Twitter, Pinterest, and Instagram! Thank you to Cricut for providing the materials shown in this post. Images, crochet chart, and pattern copyright Tamara Kelly 2021, all rights reserved. Please do not reprint or repost these images, but please do link to this page to share this pattern with others.
If you wish to make items for sale using this image please visit the About page for details.