Red Heart Super Saver is a yarn that most people are familiar with - but have you taken a look at it lately? Or spotted all the interesting new varieties? Let's take a closer look at Super Saver in this month's Moogly Yarn Love yarn review - and get some free patterns to make with it!

Disclaimer: This post was sponsored by Red Heart Yarn, but all opinions are my own. This post includes affiliate links.
Did You Know?
There are several different varieties of Red Heart Super Saver that are all 4/Medium/Aran weight. And all are made in America and hold the OEKO-TEX® Standard 100 certification! Finally, almost all are all 100% acrylic. (The exception is the Flecks, which are 96% acrylic and 4% other fibers.)
This means they are perfect for mixing and matching and substituting! Here are the facts that set each apart.
The Red Heart Super Saver Facts:
Yardage:
No-Dye-Lot Solids: 364 yds (333 m)
Prints & Multis: 236 yds (215m)
Flecks: 260 yds (238m)
Stripes: 236 yds (215 m)
Pooling: 236 yds (215 m)
Fair Isle: 236 yds (215m)
Ombre: 482 yds (440 m)
Skein Weight:
No-Dye-Lot Solids: 7 oz (198g)
Prints & Multis: 5 oz (141g)
Flecks & Heathers: 5 oz (141g)
Stripes: 5 oz (141 g)
Pooling: 5 oz (141 g)
Fair Isle: 5 oz (141 g)
Ombre: 10 oz (283 g)
Colorways:
No-Dye-Lot Solids, Prints, Multies, Flecks, and Stripes: 149
Pooling: 6
Fair Isle: 8
Ombre: 18
Where to Buy It: RedHeart.com and on Amazon US, or at your local big box craft store.
The Red Heart Super Saver Video Review:
CLICK HERE TO SUBSCRIBE to the Moogly YouTube Channel and get notified the next time we go live or upload a new video!
Hook and Needles Seen In This Video:
Free Patterns Using Red Heart Super Saver
Red Heart Super Saver is one yarn that has a plethora of patterns to choose from! In addition to the Elephant Book Ends, Get Whale Soon Tissue Box Cover, Fair Weather Beach Tote and Building Blocks Backpack here on Moogly, there are over 1100 free knit, crochet, and craft patterns available for these yarns on Red Heart.com!
I hope you'll give Red Heart Super Saver a try today! And if you're reading this in June 2019, be sure enter the giveaway too! Super Saver has lots of fantastic uses, and an amazing variety of colors to choose from!
And last but not least, here's a pin to save and share this review with your fellow yarn lovers on Pinterest!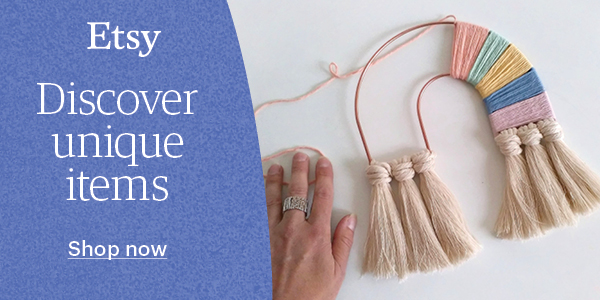 Get Moogly on your favorite social media sites: Facebook,, Twitter, Pinterest, Instagram, and Tumblr! And sign up for the free newsletter at the top of the page so you don't miss a thing! This post was sponsored by Red Heart Yarns.