Disclaimer: This is a sponsored post, but all opinions are my own.
Have you seen the meme? The one that says something along the lines of, "Why would I buy that hat for $10 when I can spend $30 on craft supplies to make it myself?" Yeah, we all know crafting doesn't always save money. But it does save our sanity! Nonetheless, we all have a budget. And so I'm working with Dealspotr today to talk about how you can save money AND your sanity by getting great deals on crafty supplies (and everything else you order online)!
Back before I started Moogly I was a big couponer. I loved going through the Sunday papers and all the couponing websites, getting the best deals for my family. But that only lasted a few months before I had to give it up - who has the time? Nowadays, I don't clip paper coupons - but I *DO* use a lot of promo and coupon codes online.
Whether it's food delivery on the weekends, holiday gifts, or craft supplies, I always look for a coupon code before I buy. And one of the newest places I always run a quick search for codes is Dealspotr! Dealspotr is "Wikipedia of deals" - a new site full of user submitted coupon and promo codes.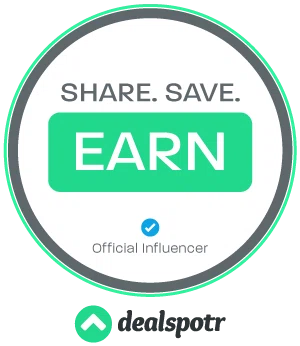 But what sets them apart is that Dealspotr rewards members for posting only accurate deals, coupons, and promo codes. The result is a super accurate, every growing and updating list of over 5 million deals - and according to reports, they save the average user approximately 17 minutes and 14 dollars per visit!
So when Dealspotr contacted me to tell me about their site - and why they thought I should tell you - I was excited to give it a try! I love saving money, and a new resource for that is always a good thing! I signed up as soon as I got a chance, and used it the next few times I shopped online. And I tried adding a few deals over the following couple of weeks too!
When you go to Dealspotr, you can browse the latest trending deals, or use the search bar to find the deals at the site you're shopping from. All the deals are crowdsourced - added by users like you and me. Or you can browse by category - including Freebies! Or just watch the newest deals roll in.
When you've spotted a deal you like, you can save it for later, share it with others - and of course, use it to save money! It's all set up so that it's super intuitive and easy to use. After you've used the code, you can leave a validation on Dealspotr - whether or not it worked, and how much you saved - so that others know if it's a good code or not.
And when you leave validation, you earn points. As you do when you add new deals you've discovered! I've been able to add a couple so far, including a code for free shipping at LionBrand.com that I spotted on an advertisement. I tried it out, and it worked! So I shared it on Dealspotr, and earned more points for my account. But you don't have to buy anything to earn points, just share deals and be helpful to other shoppers!
When you've got enough Dealspotr points, you can redeem them for Amazon gift cards - and as you post accurate deals, your accuracy score will go up, and you'll be able to earn a higher percentage of points.
And of course, you can get nearly everything on Amazon these days! So in other words, you can save money on your craft supplies (and other necessities)... and then earn money to buy more craft supplies! Love that!!
You can also create your own personal feed of deals, so you're ready to save whenever the urge strikes, I've been using it for just a couple weeks, and I'm about half way to my first reward. And I'm not buying anything I wouldn't buy anyway - and I'm spending less, which is the whole point!
Dealspotr is very easy to use, and I love watching those points go up - and my bills go down! I also really like the My Saves page - sometimes I spot a deal I want to remember for later, so I can just click on the little pushpin, and it'll be on My Saves page waiting for me when I'm ready to shop!
On the surface, Dealspotr might look like just another coupon code sharing site, but there's the potential to not only save money, but to earn money - and buy more craft supplies! So I'm going to keep on using it, sharing deals, and saving money. If you'd like to join me you can CLICK HERE and use the code MOOGLYBLOG for my personal referral - and get an extra +5,000 points when you join and complete the new user checklist and post your first valid deal! (And if you're a blogger, email me for a special link just for you!)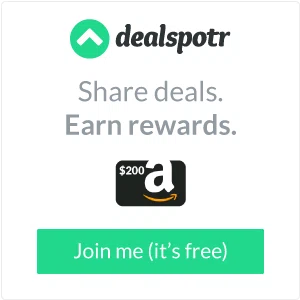 It's super easy, and can save you money - to spend on yarn and hooks of course, and time - to spend crocheting and knitting! I hope you find it as helpful as I have!
You can follow Moogly on Facebook, Twitter, G+, Pinterest, Instagram, and Tumblr!