I've got a new Craftsy class, and it's perfect for both beginners, and those who really want to dive into the granny stitch - Classic Crochet: The Granny Stitch!
Disclaimer: This post includes affiliate links.
UPDATE!
Since this post, Craftsy was renamed, closed down, purchased, and re-opened! But this class is indeed still available - CLICK HERE to purchase this class now, available for streaming and on DVD!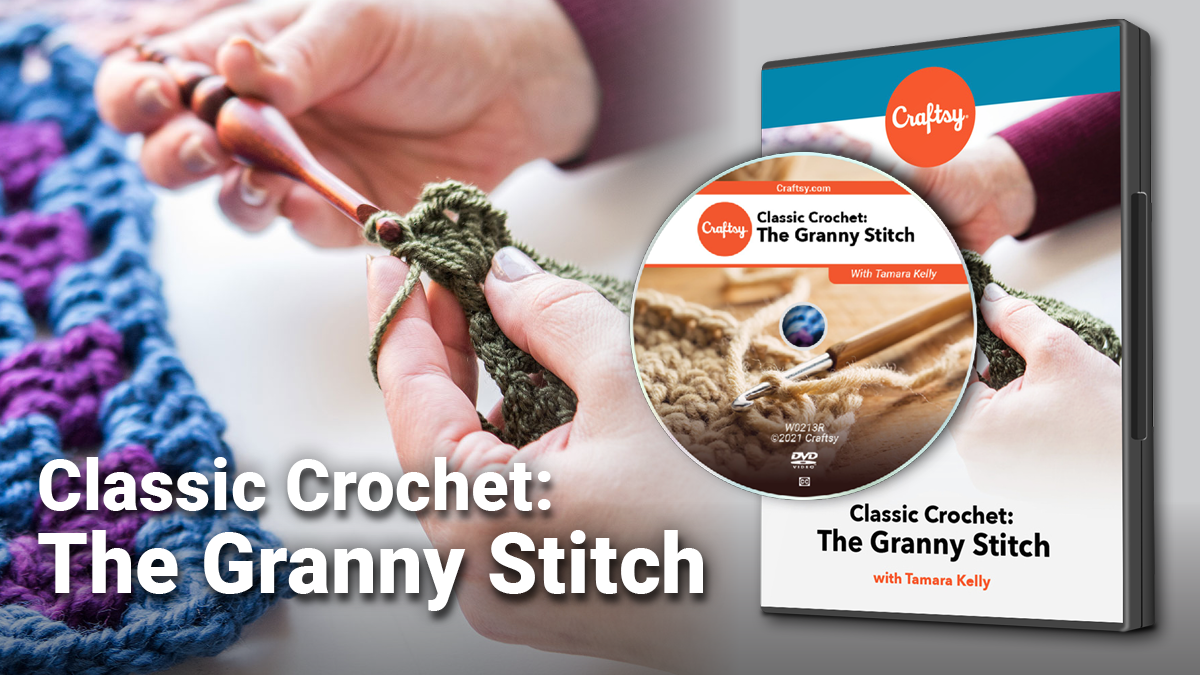 ---
The Granny Stitch is an easy to learn crochet stitch pattern all on its own, and in Classic Crochet: The Granny Stitch, I teach you how to crochet it in rows, in the round, and how to increase and decrease with it as well.
And then, we take the Granny Stitch and turn it into motifs! Not only do I cover how to crochet the basic Granny Square, but I walk you through Granny Triangles, Hexagons, and Octagons too!
But the basics are never good enough - I also share my favorite tips and tricks for making your granny motifs as perfect as possible, eliminating many of the usual problems with squares - and leaving you with skills that will improve every future project you make!
The fun keeps going as I cover several different ways for you to join your granny motifs - sewn, crocheted, even join as you go are covered in Classic Crochet: The Granny Stitch!
Finally, I get to walk you through a brand new pattern that I designed just for this class - the Granny Stitch Hooded Vest. It's an ideal first garment if you've never made one before - every technique used is covered in class, and I take you through each step. And the way it's constructed adds to the excitement - it's a little like crochet origami (but way easier)!
I really hope you'll check out Classic Crochet: The Granny Stitch. While the stitch and the motifs have been around for ages, we've added new tricks and inspiration to bring it up to date.
This class was so much fun to make - working with Craftsy is always a joy! And their platform is perfect for online learning - lots of downloadable and printable materials are included in the class, and that 30-second repeat makes mastering new techniques that much easier! And of course, I'll be stopping by several times a week to answer any questions you have, right on the Craftsy class itself.
If your own skills are beyond this class, it also makes a great gift for someone you know who is just starting out! Pair it with a hook and yarn and you'll be the favorite all year long, because you've given the gift of lifetime happiness! So.... 
CLICK HERE to see more about
Classic Crochet: The Granny Stitch, and enroll today!
Remember, when you purchase a Craftsy class, it is yours to keep and watch at your convenience - whenever you want, how many times as you want!
I hope you enjoy Classic Crochet: The Granny Stitch - and the Granny Stitch Hooded Vest pattern! I can't wait to see your squares, motifs, and finished projects!
Follow all the Moogly fun on your favorite social media sites: Facebook, Twitter, G+, Pinterest, Instagram and Tumblr!